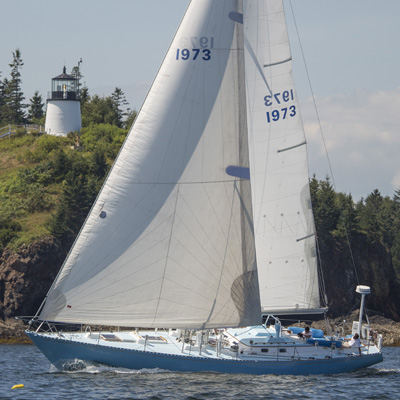 MEET ANJACAA
She's a 54-foot sloop, built by Palmer Johnson and designed by Sparkman and Stephens. Anjacaa was built for racing and cruising with a centerboard rig, designed so that she could get into most Maine harbors at any tide. She was brought from Wisconsin to Camden and has remained her home port ever since.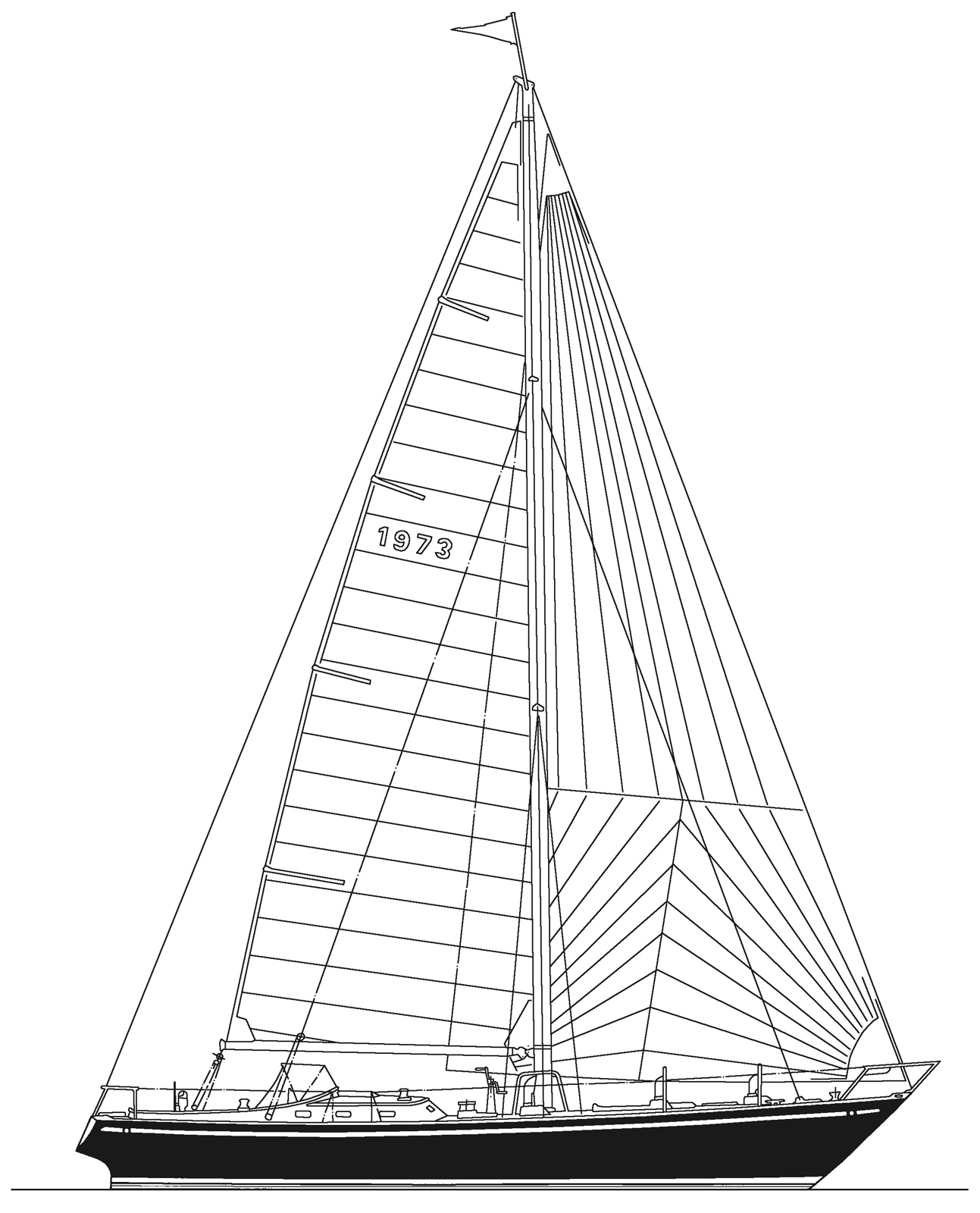 Maximum six passengers
Fully-cushioned cockpit
Galley
Living Area
Two private cabins
Two full bathrooms
WELCOME ABOARD
Anjacaa has sailed the waters of the Penobscot Bay her entire life. Along with her crew, she is ready to show you some of the most beautiful sites along the coast. Anjacaa is a comfortable cruiser with a respectable record in the local racing circuit.  Anjacaa was built for speed so if you are looking for a faster sail this is the boat for you. If you are up for a more hands-on adventure, guests are encouraged to help with sails and get behind the helm. Let's go exploring!
Escape on a 2-hour day sail and experience one of the most breathtaking perspectives of the coastline of Maine. Anjacaa is a great boat for people looking for a more private sail with a limit of six passengers. There are two full bathrooms on board as well as two private cabins, full galley, living area, and fully cushioned cockpit. All cruises non-smoking. Book us for one of the summer's festivals, full moons, sunsets or fireworks.
Anjacaa is the perfect boat for private charters. A chartered sail can last from two hours to all day or even overnight. We take care to customize each trip to suit your needs and the occasion.
Private charters on Anjacaa are great for intimate cocktail parties, small weddings, birthday celebrations, a get-together with friends or a romantic sunset sail just for two. Ask us about catering, too. Fresh and local cuisine is our specialty and we are happy to work with you to plan the perfect menu.
We are looking forward to the excellent forecast for the coming weeks for sailing on Penobscot Bay. We are now offering daysails and sunsets sails for two hours seven days a week on both Schooner Surprise and Sloop Anjacaa. Both boats are also available for charter so if you are planning a birthday party, anniversary, family reunion, or corporate event let us help you make it a special day to remember on board! We also offer catering and specialized menus. People often ask why the Surprise? We offer cushioned seating for all on board, a limited number of passengers allows our guests a more intimate and comfortable ride. Our schooner is also on the National Register of Historic Places and carries a fascinating history. What about Anjacaa? Anjacaa is great for small parties looking for a more private ride. She carries a maximum of six guests, and is good for couples looking for more space and fewer passengers on board. Anjacaa is also great for those looking for speed, she is swift in the water and great in both light winds and strong breezes. We have lots of special events happening this summer aboard both boats including full moon sails, sunset sails with live music and dessert, fireworks sails, race weekend on Anjacaa, Windjammer parade of sail in Rockland. Check out our special events page on our websites, and join us for a sail this summer!
Upcoming Events
June 9th- Full moon sail. Watch the sunset behind the Camden Hills and the full moon rise over the bay. 6:30pm-8:30pm. $75 a person. BYOB
July 4th- Fireworks over Camden Harbor. Join us for a sunset sail and then a front row seat for the fireworks. 7:00pm-9:00pm $75 per person BYOB
July 9th- Full moon sail. Enjoy homemade desserts while we watch the sunset over the hills and the moon rise over the bay. 7:00pm-9:00pm $85 per person.
July 28th-29th- Camden Classics Regatta. Charter famous racing Sloop Anjacaa and race 1 or 2 days with the New England's finest classics yachts. All Day, includes lunch and beverages. 1 Day $1200, 2 days $2000. Call for details and booking. www.camdenclassicscup.com
August 7th- Full moon sail. Enjoy homemade desserts and watch as the moon rises over Penobscot Bay. 6:00pm-8:00pm. $85 per person. BYOB
September 1st- Windjammer Festival Sail in. We join the fleet of windjammers as they make their way in to Camden for the the weekend. An excellent photo opportunity! 1:00pm-3:00pm or 3:30pm-5:30pm. $75.00 per person.
September 1st- Windjammer weekend fireworks sail on Sloop Anjacaa. 7:00pm-9:00pm. $75 per person BYOB
September 6th- Full moon sail. Watch the sunset behind Camden Hills and the
moon rise over Penobscot Bay. 6:00pm-8:00pm. $85 per person. BYOB
Beautiful Camden, Maine is our homeport.
With so much to offer by sea and even more on land, we hope you enjoy exploring our local area as much as we do.
The Schooner Surprise is our sistership.
We also offer two hour day sails and charters on this historic vessel. She is in her 99th year.
Sail on Surprise and you may see lighthouses, wildlife, private yachts and summer estates as we cruise the coast. We offer Sunset sails, Friday night sunset sails with live music, Full moon sails, Fireworks sails, and Wine sails. Surprise is an 18 passenger boat with cushioned seating for all. We sail 7 days a week from mid-May to mid-October. Get involved and help raise sails or steer the boat, we are great with kids! Come and join us for a cruise on board the most famous windjammer in Maine.