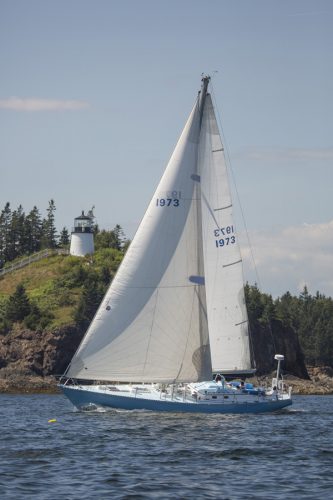 From June 15  to September 1, we leave the dock at:

10:30 a.m.
1:00 p.m.
3:30 p.m.
6:00 p.m. (sunset sail)
From September 2 to September 30, we leave the dock at:
10:00 a.m.
12:30 p.m.
3:00 p.m.
5:00 p.m. (sunset sail)
Full moon sails.
Watch the sunset behind the Camden Hills and the full moon rise over the bay. 7:30-9:30.
$85 a person includes appetizers. BYOB
Fireworks.
A front row seat for fireworks over Camden Harbor for the Camden's own Windjammer Festival in September. 
From May 20 to June 14 and September 16 to October 20, Anjacaa is available for private charter only.
Rates: Up to 4 passengers $300, 5 passengers $375, 6 passengers $450, Call us for bookings 207-236-4687
We provide blankets on-board, however an extra layer is always a good idea. As a general rule, it is usually cooler on the water than on land. You may also want a hat, sunglasses and sunscreen. Feel free to bring a lunch or snack and beverages (including beer and wine).
The boarding of Anjacaa will depend on the day you will either be picked up at the dock at Wayfarer marine or picked up there by the launch boat an dropped at the mooring to board Anjacca. Please let us know if anyone in your party has difficult getting around so we can do our best to accommodate them.
All cruises non-smoking.
---
Find us under the green Schooner Surprise umbrella at the Public Landing or call us.
207-236-4687 | sail@schoonersurprise.com
Please take a moment to review cancellation policy.